Roll over image to zoom in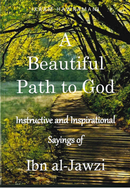 Description
A Beautiful Path to God
Sayings of Ibn al-Jawzi
Ikram Hawramani
Ibn al-Jawzi is one of the greatest writers in Islamic history. His writings have inspired and guided generations of Islamic scholars and ordinary Muslims for centuries.
A Beautiful Path to God is a collection of quotations from Ibn al-Jawzi's best-known books. The quotations have been selected to provide a beneficial and heart-touching mixtureof inspiring reminder, snippets of rare and beautiful insights, and guidance toward living a balanced spiritual life modeled after the life of the Prophet (PBUH), and his Companions.
The Book can be read from start to finish or browsed at random. Helpful footnotes are provided to explain technical points and provide background information where necessary.
Ibn al-Jawzi's teachings are special in that he unites the teachings of the great ascetics, the great scholars, the Quran and the Sunnah, in this wayoffering a balancedworldviewthat does not go toextremes either in focussing on the worldly life and ignoring the duties of the hereafter, or in focussing on the hereafter and ignoring the dutiesof the worldly life.
I pray that reading this book will be the start of a renewed and inspired relationship with God for you.
Allahumma ainna ala zikrika wa taa atika wa husni ibadatika
O God, help us in remembering You, being obedient toward You and worshipping You in the best way possible.
262 Pages
£13.95
Payment & Security
Your payment information is processed securely. We do not store credit card details nor have access to your credit card information.