Roll over image to zoom in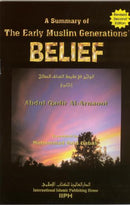 Description
One of the major factors in publishing this book is the lack of easy material on the Muslim belief for new Muslims. A sound and correct understanding of this important aspect of faith is not only essential but compulsory. The source of this belief must come from the early generations as they were the best in understanding the revelation.
This brief treatise covers all the essentials of Aqidah and will also be useful for other Muslims whose understanding of faith is weak or distorted by deviant ideas.
Payment & Security
Your payment information is processed securely. We do not store credit card details nor have access to your credit card information.