Roll over image to zoom in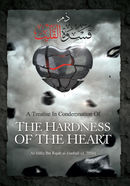 Description
Malik b Dinar said: "A slave has never been punished with anything more severe than the hardness of the heart."
In this treatise al-Hafiz ibn Rajab al-Hanbali scholastically discusses the dangers of the hardness of the heart, its causes and how it can be treated in light of the Qur'an and the Sunnah.
94 pages
Payment & Security
Your payment information is processed securely. We do not store credit card details nor have access to your credit card information.