Roll over image to zoom in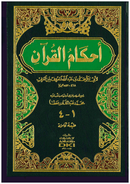 Description
4 volumes in 1. This tafsir is similar to Tafsir Qurtubi in that the author delves into fiqh rulings through his tafsir of the Quran. Nice print with full harakat.
أحكام القران لأبيبكر ابن العربي
DKI
168 X 240
Full Harakat
Payment & Security
Your payment information is processed securely. We do not store credit card details nor have access to your credit card information.