Roll over image to zoom in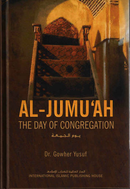 Description
In our busy lives, Friday comes around once a week. It often comes and goes without our being really aware of it. For many Muslim men, it may be punctuated by the congregational prayer that we make special efforts to attend. For Muslim women, it may go by just like any other day. This ought not to be the case. In this special book, Dr. Gowher Yusuf gives us reason to stop and think about how special Friday (al-Jumu 'ah) really is, and what we should be doing to achieve the many bounteous blessings it holds for those who observe it.
Friday is the day of congregational prayers for Muslims. The weekly gathering in mosques and the sermon serve as a medium of mass communication of messages that foster collective awareness about prevailing issues and focus on the societal affairs. Gowher Yusuf has tried to collect verses, hadith and traditions of the Prophet (Pbuh), in this small volume.
H/B
192 Pages
Payment & Security
Your payment information is processed securely. We do not store credit card details nor have access to your credit card information.