Roll over image to zoom in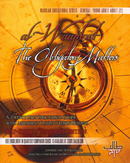 Description
As Muslims we have to understand that Islaam is a complete way of life for us. It is a guide for us, perfected by the Lord of the Worlds, and it is upon us to learn about it, and to follow it as best as we are able. In this explanation of a compilation of points by Sheikh Muhammad ibn 'Abdul Wahaab, we begin the journey towards understanding many important concepts of Islaamic belief, and how we can implement them in our everyday lives, such as the answers to the questions we will be given in the grave, the meaning and conditions of ash-shahadah (the testification of faith), the meaning of at-tawheed (singling Allaah out for worship), and what exactly are those things which are worshipped other than Allaah.
The book is designed to facilitate a systematic study of the text by a single student, a group, or a class situation, and includes lesson questions, quizzes, and exams.
What it is Decreed that Every Male and Female Muslim Must Have Knowledge Of
-from the statements of Sheikh al-Islaam Muhammad ibn 'Abdul-Wahaab
(A Step By Step Course on The Fundamental Beliefs of Islaam- with Lesson Questions, Quizzes, & Exams)
Collected and Arranged by Umm Mujaahid Khadijah Bint Lacina al-Amreekiyyah
(Umm Mujaahid is a student of knowledge who has previously studied at Dar al-Hadeeth in Mab'ar- Yemen, Dar al-Hadeeth Damaaj- Yemen, and presently studies at Dar al-Hadeeth in Shihr -Yemen)
220 Pages
PB
Payment & Security
Your payment information is processed securely. We do not store credit card details nor have access to your credit card information.