Roll over image to zoom in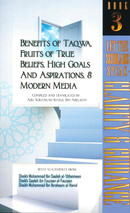 Description
The esteemed guiding scholar Sheikh Saaleh Ibn Fauzaan al-Fauzaan, May Allaah preserve him, said:
"So we must all fear Allaah, the Most Perfect and the Most High, regarding what goes on in our homes and regarding our children. We must be diligent in offering advice between ourselves as Muslim brothers, and between our neighbours in relation to those matters going on around and among us. We should act with love and mercy; with the offering of sincere advice and proper cooperation upon goodness and the fear of Allaah.
In this matter I ask Allaah for success for myself and for you, by means of having beneficial knowledge and putting forth righteous deeds, and having a sincere intention for Allaah, the Most Glorified and the Most Exalted, in everything that we say and do and in everything that we believe in our hearts. May the praise and salutations of Allaah be upon our Prophet Muhammad and upon his family, and all his companions."
Payment & Security
Your payment information is processed securely. We do not store credit card details nor have access to your credit card information.