Roll over image to zoom in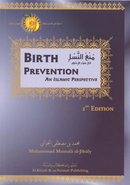 Description
2nd Edition
The purpose of this series, enter in to islam completely, is to present some unduly belittled issues, prove their value, and discuss their regulations.
This book presents a sound and comprehensive Islamic understanding of birth prevention and other related issues. It first establishes the Islamic view of procreations. This is followed by an overview of birth prevention methods, old and modern.
100 Pages
P/B
Payment & Security
Your payment information is processed securely. We do not store credit card details nor have access to your credit card information.