Roll over image to zoom in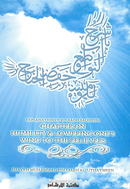 Description
Shaykh Muhammad bin Saleh 'Uthaymeen, may Allaah have mercy upon him, expounds on the chapter concerning humility and lowering one's wing to the believers.
Excerpt:
An-Nawawi (rahimahullah) said in the book Riyadh As-Saaliheen, in the chapter "Humility and one's wing to the believers":
Humility is the opposite of self-exaltation. Humility is that one does not elevate or exalt himself over others by way of his knowledge, lineage, wealth, status, leadership, governorship, and so on. Rather, it is obligatory to lower one's wing to the believers. He should exhibit kindness to them just as the most honorable of creation and lofty amongst them before Allaah, the Messenger of Allaah (sallallahu alayhi wa sallam), used to exhibit kindness to the believers, to the point that a young girl would grab him by the hand and take him wherever she wanted and he would fulfill her need for her.
Allaah the Sublime says,
"And be kind and humble to the believers."
And in another verse Allaah says,
"the believers who follow you."
"… and lower your wing"
Meaning be humble. The arrogant and haughty person thinks of himself as a bird soaring in the air. So he is commanded to lower his wing and come down to the believers who follow the Prophet (sallallahu alayhi wa sallam).
Payment & Security
Your payment information is processed securely. We do not store credit card details nor have access to your credit card information.