Roll over image to zoom in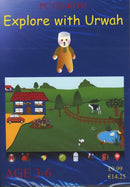 Description
For children aged 3-6. All in English and lots of activities for children to play with. However, supervision is required by parents. Runs from the CD.
Spec: Win 95, Win 98, Win Me, Win XP
Pentium 200mhz
32MB RAM
50MB Hard Drive space
32 Bit Colour (800x600)
Windows Compatible Sound Card
16x CD-Rom Drive or better
Score: Presentation – 8/10
Navigation - 8/10
Graphics - 9/10
Sounds - 9/10
Overall - 9/10
Payment & Security
Your payment information is processed securely. We do not store credit card details nor have access to your credit card information.