Roll over image to zoom in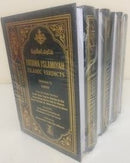 Description
A collection of Islamic rulings issued by the most renowned scholars of the Islamic world. This collection covers all the important topics such as creed, prayers, zakah, tafseer, hadith, marriage, jihad, dawah, etc.
There come many moments and occasions in one's life when there arises a need to know about a certain Islamic ruling in accordance with a situation with respect to certain conditions and circumstances.
To overcome this difficulty of the Muslims, Darussalam has presented this collection of legal rulings issued from the most renowned scholars of the world; Shaykh 'Abdul-'Aziz bin 'Abdullah bin Baz, Shaykh Muhammad bin Salih Al-'Uthaimin, Shaykh 'Abdullah bin 'Abdur-Rahman Al-Jibreen along with 'The Permanent Committee of the Fiqh Council'
This collection is also a valuable addition in Islamic literature in the English language.
Volume 1: Creed
Volume 2: Purification and Prayer
Volume 3: Mosques, Funerals, Zakah, Fasting and Sales Transactions (1)
Volume 4: Hajj Rites and Sales Transactions (2)
Volume 5: Insurance & other issues, endowments, gifts, wills, inheritance, slavery & marriage
Volume 6: Divorce, breast-feeding, offences, punishments, lawful & forbidden, oaths & judgments
Volume 7: The Noble Qur'an, Tafsir, Hadith, repentance, supplication & its manners, al-birr & joining relations, clothes & adornment
Volume 8: Jihad, Da'wah, employees & workers, teachers & students, dreams & visions, bribery & its effects, the orphan's wealth, pictures, media, singing & music, collection of various topics.
Payment & Security
Your payment information is processed securely. We do not store credit card details nor have access to your credit card information.