Roll over image to zoom in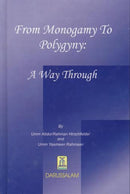 Description
From Monogamy to Polygyny: A Way Through
by Umm Abdur Rahman Hirschfelder and Umm Yasmeen Rahmaan
This book addresses the deep concern and complex issues that Muslim women have with polygamy. The insight offered in this book helps to understand this topic comes rich with understanding, comfort, advice and motivation, making polygamy easier or at the least more endurable.
Payment & Security
Your payment information is processed securely. We do not store credit card details nor have access to your credit card information.