Roll over image to zoom in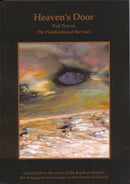 Description
Continuation of the popular first book "The Purification of the Soul," taking the works of Ibn Rajab al-Hanbali and Imam Abu Hamid al-Ghazali, two towering scholarly figures of Islamic history, and incorporating their work into this compilation. Discusses :
Enjoining good and forbidding evil
Remembering death
Punishment and blessings in the grave
Day of Rising
Heaven and hell
Counsel on death
And more
....according to the earliest sources, compiled from the works of Ibn Rajab al-Hanbali, Ibn al-Qayyim al-Jawziyya and Abu Hamid al-Ghazali, collected and arranged by Ahmad Farid.
88 Pages
P/B
Payment & Security
Your payment information is processed securely. We do not store credit card details nor have access to your credit card information.