Roll over image to zoom in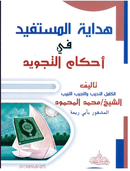 Description
هداية المستفيد في أحكام التجويد
A famous, pocket sized guide to tajwid. This is one of the first books used in madrassas in the field of tajwid.
Full harakat
Published by Makatabah Muqbil ibn Wadi and Dar Umar ibn al-Khatab
A6
P/B
Payment & Security
Your payment information is processed securely. We do not store credit card details nor have access to your credit card information.