Roll over image to zoom in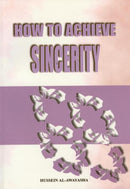 Description
The More a Person performs deeds without sincerity, the more miserable and afflicted he becomes.

There is no doubt that when someone performs good deeds sincerely like fasting, night prayers, etc., he feels some kind of joy and pleasure within him.
'And they were not commanded except to worship Allâh, sincere to Him in religion, inclining to truth, and to establish prayer and to give Zakah. That is the correct Deen.'
Surah Bayyinah 98/5
Payment & Security
Your payment information is processed securely. We do not store credit card details nor have access to your credit card information.