Roll over image to zoom in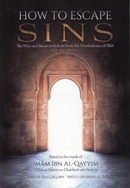 Description
In an age of consumerism and materialism, the faith of the Muslim is tested and trailed on a daily basis in the face of waves of immorality and corruption.
Imam Ibn Qayyim discusses twenty practical measures based on the Quran and Sunnah for the servant to implement in order to overcome the lure of sin and disobedience, This book explains these invaluable directives cited by imam ibn Al Qayyim in a simple and clear manner.
88 Pages
P/B
Payment & Security
Your payment information is processed securely. We do not store credit card details nor have access to your credit card information.