Roll over image to zoom in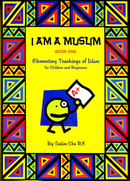 Description
This book may be used by children and new Muslim and as an aid to parents and teachers. It presents the basic teachings of Islam in brief and simple lessons followed by review questions and it contains short surahs from Juz Amma for recitation in prayer.
Book Two of this series is also available for students of an intermediate level.
PB
78 Pages
Payment & Security
Your payment information is processed securely. We do not store credit card details nor have access to your credit card information.