Roll over image to zoom in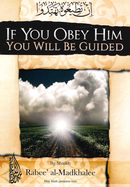 Description
If You Obey Him You Will Be Guided
by Shaikh Rabee Al-Madkhalee
We asj Allaah to guide us to the straight path in our creed, in our worship and all the remaining affairs of our life. The greatest means to obtain this thidance is by obeying the noble Messenger (pbuh) and by following him. Therefore whoever wants guidance and to be led by this light then it is upon him to commit himself with complete adherence to obeying this noble Messenger (pbuh) to follow his footsteps, and honor his statements, his actions and what he confirmed and informed us of, as it is truthful. Thus, a Muslim believes in this information, obeys the commands and avoids the prohibitions. He believes in the promise and the threat, in Paradise and the Fire. He believes in the Messengers, is obedient and follows him (pbuh)
The Author: Shaikh Rabee Ibn Hadi Ibn Umayr Al-Madkhalee having studied and nurtured under the great scholars of our time like Shaikh Ibn Baaz, Shaikh Al-Albaani and many others excelled to the heights of being one of the leading scholars in the field of Hadeeth.
Shaikh Al-Albaani said about him:... 'the likes of our brother Dr. Rabeed bin Hadi, the professor of the subject of hadeeth in the university, you may have come across his refutation, indeed he has more knowledge of hadeeth than other than him.'
Payment & Security
Your payment information is processed securely. We do not store credit card details nor have access to your credit card information.