Roll over image to zoom in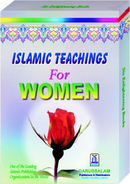 Description
There are some misconceptions about the role of women in Islam. This package is specially prepared for Muslims as well as non-Muslim women to clearly mark the rights and duties of women in Islam.
This beautiful package contains the following six books:
- The Rights and Duties of Women in Islam
- Selected Fatawa for Women
- Islamic Dress Code for Women
- What a Muslim Woman should know about Menstruation and Postpartum Condition
- Guidelines for Raising Children
- To tell a Lie and Envy
Payment & Security
Your payment information is processed securely. We do not store credit card details nor have access to your credit card information.