Roll over image to zoom in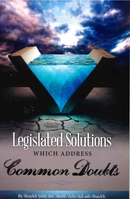 Description
Legislated Solutions Which Address Common Doubts
by Shaykh Saalih Aal ash-Shaykh
Legislated Solutions which address Common doubts
Allah sent him before the final hour as a bearer of glad tidings and as a warner: giving glad tidings of paradise to he who fears Allah, the Majestic and Exalted, and follows the Messenger; and as a warner and to bring fear of the punishment of Allah and the fire for he who opposes the command of Allah, the Majestic and Exalted, and disobeys the Messenger.
And I ask that Allah makes everyone from those whom He has favoured with an infiltrative insight in solving doubts, and with beneficial knowledge that gives life to aids the hearts.
And Allah has made the revelation in the Quran like the example of water, because withit is life for the hearts, and with it is true insight into achieving solutions for doubts and theirappearance.
Pages 47
£4.75
Payment & Security
Your payment information is processed securely. We do not store credit card details nor have access to your credit card information.