Roll over image to zoom in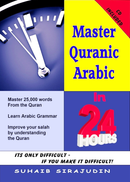 Description
24 Lessons of 1 Hour each, will Give you sufficient Vocabulary to familiarise yourself with with almost 30% of the Qur'an
It teaches Arabic by Using :
Surah Fatiha
Last Ten Surah's of the Qur'an (Last 10 Surahs from Juz Amma)
20 Verses of Surah Baqarah
Master 25,000 words from the Quran
Learn Arabic Grammar
Improve your salah by understanding the Quran
No'more distractions in Salah
Understand the message of Allah and put it into practice
All in fun and interesting way
Its Only Difficult - If You Make It Difficult
Have you ever wanted to learn the language in which the final revelation (the Quran) was revealed? Maybe you thought learning Arabic was too difficult for you or that you were too old to learn a new language. Well, in fact, not only is learning Quranic Arabic remarkably easy, it can also be fun, as you'll see in this 24-Hour course.
Even if you have little or no knowledge of Arabic, you'll find it easy going through these tutorials in the comfort of your home. At the end of each Hour you will be able to put your knowledge into practice and begin to understand Quranic Arabic.
445 Pages
P/B
Payment & Security
Your payment information is processed securely. We do not store credit card details nor have access to your credit card information.