Roll over image to zoom in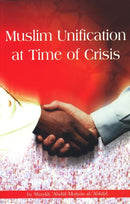 Description
This book authored by one of the great scholars of our time is an advice to the people of Ahulul –Sunnah wal-Jamaah to unify and be merciful to each other, and cooperate upon righteousness and taqwa.
Translation of Shaykh Abdul Muhsin Al-Abaad's work 'Rifqan Ahlus Sunnah'
64pp
P/B
Payment & Security
Your payment information is processed securely. We do not store credit card details nor have access to your credit card information.