Roll over image to zoom in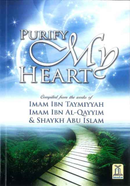 Description
Compiled from the works of
IMAM IBN-TAYMIYYAH
IMAM IBN AL0QAYYIM
SHAYKH ABUL ISLAM
This book contains a compilation of three beneficial treatises which will aid, by the permission of Allah, the believer in his quest to purify his/her soul and remain firm on the religion of Islam. The book divided in three parts,
1: how to rectify the heart, by Shaykh Abu Islam (a student of imam al-Albani)
2. Obstacles of Repentance, by Shaykh ul-Islam Ibn Taymiyyah
3. Renouncing worldly Pleasure to gain nearness to Allah, Az Zuhd by Imam ibn al Qayyim
90 Pages
A5
P/B
Payment & Security
Your payment information is processed securely. We do not store credit card details nor have access to your credit card information.