Roll over image to zoom in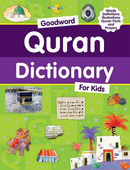 Description
Goodword Quran Dictionary for Kids is an ideal first reference book for children who are curious to know about the Quran. Designed especially for children, this unique treasury of Quranic words guides them through over 350 essential names, terms and concepts mentioned in the Quran.
Alphabetically arranged, words are clearly defined and are accompanied by charming illustrations and pictures that make it fun for children to find the words and understand them. Beside this, Goodword Quran Dictionary for Kids includes prayers from the Quran with references and their translation and Quran facts to help children learn the message and teachings of the Quran.
80 Pages
H/B
Payment & Security
Your payment information is processed securely. We do not store credit card details nor have access to your credit card information.