Roll over image to zoom in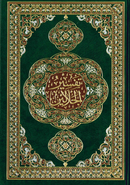 Description
168 x 240 mm
Dar al-Khair Print
تفسير الجلالين
An excellent and concise classical tafsir work by the two Jalals: as-Suyuti and his teacher al-Mahalli, may Allah mercy upon them.
English translation of this text are also available.
Please note Arabic books are imported so stock sometimes varies and may be different to the description on the website.
A4 £15.00
A5 £12.00
Payment & Security
Your payment information is processed securely. We do not store credit card details nor have access to your credit card information.