Roll over image to zoom in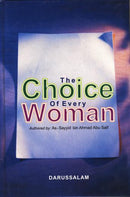 Description
The choice is of every women, will she follow the ideas and morals that are formulated by men, men whose minds are inherently deficient, or will she follow what her Lord has commanded her to do?
Just as men have duties that are not bonding upon women….such as praying in concregation, providing gor one's family, etc., women have duties that are not binding upon men…..such as wearing Hijab, rasing children while the men are gone to work, etc. This involves nothing more than a distribution of duties.
160pp
H/B
Payment & Security
Your payment information is processed securely. We do not store credit card details nor have access to your credit card information.