Roll over image to zoom in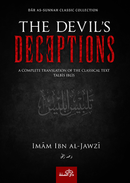 Description
It is from enmity and hopelessness of the devil that his endeavour to misguide mankind from the Path of Allah will persist. This misguidance takes many shades and forms; be it from planting seeds of doubt, or giving rise to deviant ideas antithetical to the sacred teachings of Islam, and essentially becoming entangled within regressive intellectual and rhetorical discourses. The Ummah has suffered varying levels of deviation, some of which remain prevalent today, while more continue to be uncovered - and such is the impact of delusive plottings of the devil and his allies.
This book is the sixth instalment from Dar as-Sunnah of the illustrious Imam, Abu'l-Faraj Ibn Jawzi. Being a complete translation of his well-known and prized work, Ibn Jawzi enumerates within it, many of the mechanisms and modus operandi used by the devil in deceiving and leading mankind away from the Straight Path. It is of particular value and importance because only by unearthing and accentuating some of the traps of the devil, can mankind avoid them as well as navigate others away from falling prey to his harm.
Payment & Security
Your payment information is processed securely. We do not store credit card details nor have access to your credit card information.