Roll over image to zoom in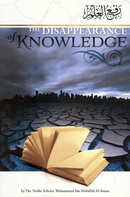 Description
This book is an amazing work by the Noble Scholar Muhammad Al-Imaam, which discusses in detail the merits of knowledge and its people. It goes into extensive detail about the many reasons that knowledge will vanish and disappear toward the end of time.
Narration after narration, text after text, this book is a must have especially in these times when many people have turned away from seeking knowledge, and instead become busied with secular knowledge, while neglecting the pure Legislative Knowledge which Allah praised.
P/B
367 Pages
Payment & Security
Your payment information is processed securely. We do not store credit card details nor have access to your credit card information.