Roll over image to zoom in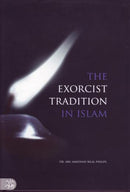 Description
The Exorcist Tradition In Islam;] Dr Abu Ameena Bilal Philips
[4j1,HB, 356pp, Al Hidaayah Publishing UK, {supernatural, Jinn, Balanced, Phd, Thesis,] £14.95
Click to enlarge
The Exorcist Tradition In Islam
Dr Abu Ameenah Bilal Philips
Hardback
This original work was first presented as a Ph.D. thesis in 1994 at the University of Wales. It is a well-balanced combination of library as well as
field research which systematically and critically assesses the theory and practice of exorcism among orthodox Muslims.
The field research is comprised of interviews with seventeen exorcists from seven countries. The results are analysed in the main text, and the interviews themselves are reproduced in a sizeable appendix. This book is a unique contribution to the understanding of a subject little known among western scholars.
This work is specifically aimed at filling a gap in modern research on the Islamic concept of exorcism and the supernatural world related to it, based upon the sources considered authentic by Islamic authorities and augmented by field research. The possession of humans by jinns and their expulsion are thoroughly discussed. A comparative study is made with Christian exorcist tradition and the medical professions point of view. Case studies of leading Muslim exorcists from Egypt, Sudan, Saudi Arabia, Bahrain, Pakistan and India are included.

ISBN: 978-1-898649-72-4
356 Pages H/B
Payment & Security
Your payment information is processed securely. We do not store credit card details nor have access to your credit card information.