Roll over image to zoom in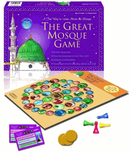 Description
To help children learn, in an enjoyable way, about the basics of mosque architecture and layout, this unique questions and answers game provides a wealth of interesting information on all the world's most important mosques. Special emphasis is laid on the Kabah and Islam's most sacred cities of Makkah, Madinah, and Jerusalem. By answering the questions on these subjects, the player will also acquire a knowledge of such Islamic practices as salah, hajj, etc.
Each of the four categories in this game has 100 questions with multiple-choice answers. An attractive feature is the illustrations accompanying many of the questions, which make it easy for children to find the correct answers.
The major appeal of the game is that it offers wholesome entertainment along with the opportunity to imbibe Islamic teachings in a simple, natural and fun-filled way.
Teaches about :
Sacred Mosques in Islam
Famous mosques around the world
Mosque architecture
The teachings of Islam about the mosque (masjid), salah (daily prayer), and Hajj (sacred pilgrimage)
Ages 8 to Adult
2-4 Players / Teams
Fun with a purpose, it is a special gift for children and source of inspiration for the entire family!
Payment & Security
Your payment information is processed securely. We do not store credit card details nor have access to your credit card information.