Roll over image to zoom in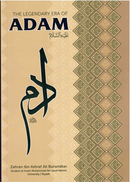 Description
An insight into the glorious life of the first man ever created, the father of mankind, prophet of Allah Sayyidana Adam.
Learn the true values and principles by looking into the life of this great prophet of Allah. A guide for the whole of mankind.
57 Pages
P/B
Payment & Security
Your payment information is processed securely. We do not store credit card details nor have access to your credit card information.