Roll over image to zoom in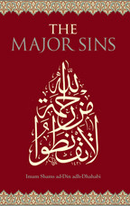 Description
The present work al-Kaba'ir is one of the most important ones he wrote for ordinary readers. In it he deals with themes which are of great interest and benefit to them in both their deen and matters of this world, explaining matters which are less easy to understand in other books of knowledge written for specialist scholars and researchers.
In al-Kaba'ir adh-Dhahabi adopts the approach of a warning guide who seeks to correct people as regards their beliefs and lives and presents his material in easily understood language and in a clear attractive style. He avoids complexity, obscurity and artifices and his book is a useful source for speakers and preachers alike. By his words he awakens the heedless and bewildered, chides rebels and deviants, and guides those who desire to travel the path of Allah to truth and to what is correct.
The major sins are those acts which have been forbidden by Allah in the Quran and by His Messenger (SAW) in the Sunnah (practise of the Prophet), and which have been made clear by the actions of of the first righteous generation of Muslims, the Companions of the Prophet (SAW
Payment & Security
Your payment information is processed securely. We do not store credit card details nor have access to your credit card information.