Roll over image to zoom in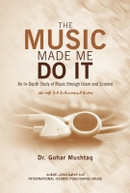 Description
and various electronic devices today, music and singing seem to be everywhere, and contemporary Muslims may be confused about their status in Islamic teachings.
The Music Made Me Do It: An In-Depth Study of Music through Islam and Science examines this topic in light of authentic Islamic sources, in order to clarify the prohibitions and allowances regarding music and singing. In addition, the author describes the social, psychological and physical effects of music on individuals, citing well-documented contemporary research in the fields of medical and behavioural sciences. The interweaving of the two perspectives makes this book a valuable asset for anyone interested in exploring this pertinent Islamic issue.
285 Pages
H/B
Payment & Security
Your payment information is processed securely. We do not store credit card details nor have access to your credit card information.