Roll over image to zoom in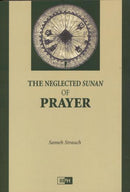 Description
The Prophet said: 'Whoever performed a good sunnah in Islam will have the reward of it and the reward of those who perform it after him.' (Narrated by Imam Muslim) and he said: "Pray as you have seen me praying." (Narrated by Bukhari and Ahmad)
It is with such ahaadeeth in mind that Sameh Strauch, the author, has attempted to bring to the attention of the English-speaking Muslims some of the sunan relating to prayer which, regrettably, are rarely or never performed in our time, in the hope that it will inspire the readers to revive them.
The author of this booklet utilized his enriched experience about Islam and a deep understanding of its principles and values, to enable his readers to attain relief out of every suffering.
'And whoever relies upon Allah, then He is sufficient for him
'And hold fast, all together, by the rope which Allah (stretches out for you), and be not divided among yourselves; and remember with gratitude Allah's favour on you; for you were enemies and He joined your hearts in love, so that by His Grace, you became brethren; and you were on the brink of the pit of Fire, and He saved you from it. Thus does Allah make His Signs clear to you: That ye may be guided'
Qur'an 3:103 Al-Imran (The Family of Imran)
62 Pages
P/B
Payment & Security
Your payment information is processed securely. We do not store credit card details nor have access to your credit card information.