Roll over image to zoom in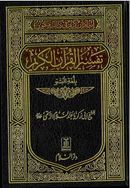 Description
Author: Abu Zakariya Abdus Salam Rustami (translator, commentator)
Publisher: Darussalam Publishers & Distributors (2002, 1423 AH)
Pages: 1666 Binding: Hardcover
Description from the publisher:
This is a complete Quran, with Pushtu translation and Pushtu tafseer (tafsir). It includes the original Arabic text of the Qur'an, in a single hardcover 7" x 10" volume.
Payment & Security
Your payment information is processed securely. We do not store credit card details nor have access to your credit card information.