Roll over image to zoom in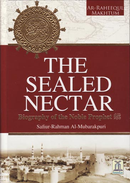 Description
A complete authoritative book on the life of Prophet Muhammad (S) by Sheikh Safi-ur-Rahman al-Mubarkpuri. It was honored by the World Muslim League as first prize winner book. Whoever wants to know the whole lifestyle of the Prophet in detail must read this book.
Now with colour, illustrations and maps giving greater detail of the Prophet's (SAW) life.
655 Pages
H/B
Payment & Security
Your payment information is processed securely. We do not store credit card details nor have access to your credit card information.