Roll over image to zoom in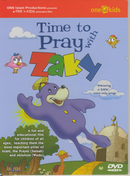 Description
Time To Pray With Zaky is the world's first animation film teaching children the most important pillar of Islam - the Prayer (Salaah) and Ablution (Wudu). A fun and educational film for children of all ages, teaching them the most, important pillar of Islam, the Prayer (Salaah) and Abulution (Wudu).
Featuring 6 NEW voice only songs.
Zaky & friends are playing in the field when the athaan is heard from th nearby mosque. The children go to make Wudu but Abraham is missing. Zaky finds him & realises that Abraham doesn't know how to make Wudu or Pray.
"That okay Abraham, we'll teach you" says Zaky
Abraham is excited & joins the rest of his friend as they all offer to help teach him the steps. Together with Teema, Toofa, & Kazwa, Zaky teaches Abraham the simple steps of Wudu & Prayer… and they all learn some extra things along the way!
- World's first animation film teaching prayer and wudu, etc.
- Introduces 3 new cartoon characters - Kazwa the camel and Toofa & Teema birds
- Live actors mixed with animation
- 6 new children's songs written by One 4 Kids on prayer and wudu
- Approximately 60 minutes which includes quizzes, games, music video clips
- Gives a message of Unity to a young age group of below 8 years old, honouring differences of opinion in prayer and wudu
- Several added improvements and changes based on live audience preview in March 2007
- Improved quality of animation to be same as Story of Abraham
- English Subtitles available
Payment & Security
Your payment information is processed securely. We do not store credit card details nor have access to your credit card information.