Roll over image to zoom in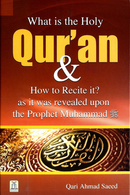 Description
This book guides readers to pronunciate the Arabic alphabet from their correct point of articulations. It also guides them to recite the Holy Qur'an according to the laws and principles of the art of recitation and intonation.
The correct pronunciation of the Arabic words and alphabet was difficult to some extent for the people living in the West as compared to those of East. So they need some more efforts to solve this problem and to make it easy for them.
H/B
Payment & Security
Your payment information is processed securely. We do not store credit card details nor have access to your credit card information.