Roll over image to zoom in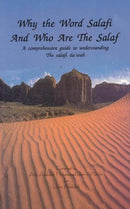 Description
The prophet S.A.W. said ''This knowledge will be carried by the trustworthy ones of every generation. They will expel from it the alerations made by those going beyond bounds. The false claims of the liars and the false interpertations of the ignorant.
The successful muslims are those who are grounded in the aqeedah and manhaj of the salaf-as-salih which are free from innovatios, shirk, blind following and deviant philosophy. Placing the Quran and sunnah with the under standing of the Salaf-as-salih, as a guidance in thier every day affairs facing the challengers of every day life.
Page No.72
Payment & Security
Your payment information is processed securely. We do not store credit card details nor have access to your credit card information.